Do Mac's need Virus protection software in 2020? Apple Expert South Africa
One of the most common questions is whether your Mac needs virus protection or not.
There are two trains of thought. One is that Mac's should have antivirus the other is that Mac's aren't really susceptible to viruses therefore there is no real need for the software.
Mac Antivirus software like Norton AntiVirus, Kaspersky Anti-Virus and Bitdefender are some of the most popular pieces of antivirus applications.
The real question is what are the pros and cons of these types of antivirus products for Mac?

So let's look dive right in!

2020 review of Bitdefender for Mac antivirus software
1. Incorporates a decent level of accuracy in detecting possible adware and malware on your Mac.
2. It is relatively cheaper than other options.
3. It can become very resource intensive.
4. There is a built in password manager.
2020 review of Norton AntiVirus for Mac antivirus software

1. Good track record of keeping up with the latest malware for Mac.
2. There are browser extension extras which one can install for added protection however, these have been found to be unstable making them unreliable.
3. Norton AntiVirus has a lower than normal consumption of Mac resources.
2020 review of Kaspersky Anti-Virus for Mac
Now, for those who think you don't need antivirus software for your Mac…
It is not commonly know but Apple have a built in antivirus solution called XProtect.
XProtect is an extensive library of blacklisted software applications which may contain viruses, malware and spyware.
In our previous article we provide a step by step guide on how to allow 3rd party applications access to your data and folders (click here to view the article)
Here's why XProtect can protect your Mac without needing antivirus software:
1. XProtect already contains a library of blacklisted antivirus applications which have previously been flagged as malicious.
2. With the latest security protocols Apple have launched most of the time your Mac will notify you that an application is trying to access a specific file or piece of data and will prompt you whether to allow or block the request.
3. Apple have become very strict in what information 3rd party applications can access. This is called 'Sandboxing'. Sandboxing denies 3rd party applications the ability to track or access other applications be those Apple or other 3rd party ones. This is powerful because it won't matter what a Mac developer develops, Apple's App Store will not allow the application to be published should it not meet the sandboxing requirements.
4. Apple have also developed Gatekeeper. Gatekeeper prevents applications running on your Mac unless the software is from approved developers.

5. One of the challenges with XProtect is that it doesn't automatically remove the malware.
Final verdict:
We don't believe that antivirus software is always necessary. Antivirus software can often make your Mac very slow and there are always instances where the antivirus software is not up to date enough to pick up new viruses.
This observation has been made over 11 years of providing expert Apple support.
Some may agree with it some not, the principal applies. There will always be a risk that someone will try and hack your machine or for an application to pretend to be legitimate when it isn't.
Our advice is always to be aware when downloading applications, visiting websites, opening emails and reviewing your security setting often. 
Below is our updated 2020 guide on how to check your Mac's current security settings.
Check your Gatekeeper settings:
1. Go to system preferences
2. Press the lock to access the settings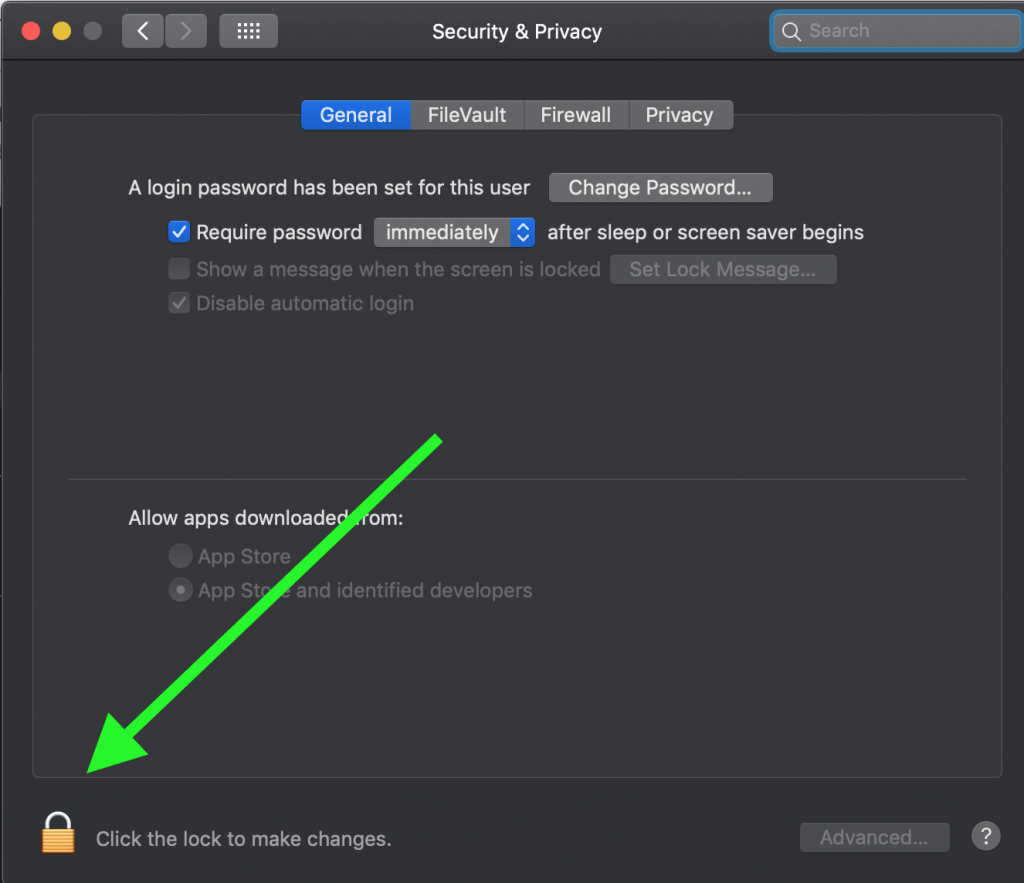 3. Make sure the lock is unlocked
Top 2020 & 2019 Apple Mac SSD and Apple RAM memory upgrades

The most popular Apple Mac SSD upgrades have been the 500GB – 1TB SSD range. The most popular Apple RAM memory upgrades have been 8GB, 16GB 32GB and 64GB options.

Apple Mac SSD upgrades have seen a significant increase in storage capacity which is now up to 4TB SSD storage! With that kind of Mac SSD storage there will be a lesser need for external hard drives.

2020 will mark new 2TB & 4TB Mac SSD's therefore more ZA Support Fans are storing their photo's, music, and other larger file types on their Mac SSD upgrade.

Apple Mac RAM upgrades have seen Mac performance improvements by a minimum of 30%. Apple RAM memory upgrades specifically improve performance of applications as they provide the support needed by 64-bit applications.
During 2020 we are expecting these performance enhancements to top 43%.
The most common reasons for upgrading to a new Mac SSD and Apple RAM memory upgrade have been:

1. Slow Mac speed. This is one of the biggest reasons ZA Support Mac Fans upgrade to an SSD. Increasing your Mac's performance with an SSD on average improves performance of application by over 77%, in most cases Mac performance is higher than 77%. This year we are expecting the performance improvement to be over 85%. In 87% of cases Apple SSD upgrades are combined with Apple RAM memory upgrades for enhanced Mac speed.
2. Improving the performance of Office for Mac applications. Believe it or not, Office for Mac applications can reduce your Mac's performance significantly. This is commonly a result of new sync services and 'recommendation' features which connect to the internet when you use them to make suggestions. Office 2016 for Mac and Office 365 for Mac are the main culprits. Apple Mac RAM memory upgrades assist with Office for Mac applications opening faster without the wheel of death or the beachball.

3. Poor Mac photo, music and video editing performance. This one generally doesn't come as a surprise. Apple have launched machine learning as a feature in the new versions of Photos. This along with a host of new features has caused the Photos app to consume a massive amount of Mac resources, which can reduce your Mac's performance. Mac SSD upgrades increase read and write performance as well as assisting with rendering speed dramatically improving the Photos App performance. Apple Mac RAM memory upgrades also improve the performance of rendering photo's, making adjustments and adding effects faster and smoother.

4. Increase the life span of your Mac without buy new. Apple new hardware sales have dramatically decreased compared to Apple RAM memory and Apple SSD upgrades. The reason is simple. If you can get excellent performance and speed from your existing Mac why buy a much more expensive new Mac which is limited in its upgradability?